Tagged: Jokes, Entertainment
Source: Pcworld - Read the full article
Posted: 6 years 30 weeks ago
The Internet has made April Fools' infinitely more amusing -- and if there's one company that loves to get in on the hijinks, it's Google.
Google's April Fools' Day jokes have become the stuff of legend. Sometimes the gags are good enough to trick you; other times, they're just good for a chuckle.
Here are five of my personal favorites.
1. Google April Fools' Joke: The Topeka Name Change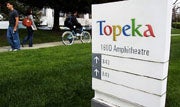 This first one may have only happened today, but it's far too brilliant to leave off the list. Bright and early this April Fools' morning, Google announced it was changing its name...to Topeka.
The gag comes one month after the real Topeka decided to temporarily change its name to Google. Topeka's mayor signed a proclamation to help convince Google his city was the best place for its soon-to-be-launched broadband network.
Today, Google fired back, replacing its standard home page logo with the word "Topeka." A photo showed the Google headquarters with a freshly updated sign. And a placard was even provided to help you learn the proper way to use the new name in conversation.